This Software is published on Download.cnet.com -- the first software download site in the world.
In this category, Easiersoft Free Barcode Generator has the most downloads:
Windows - Business Software - Inventory Software
KEY DETAILS OF FREE BARCODE GENERATOR:
Print bulk various types barcode labels with laser inkjet printer, add barcode to Excel, Word. Download Now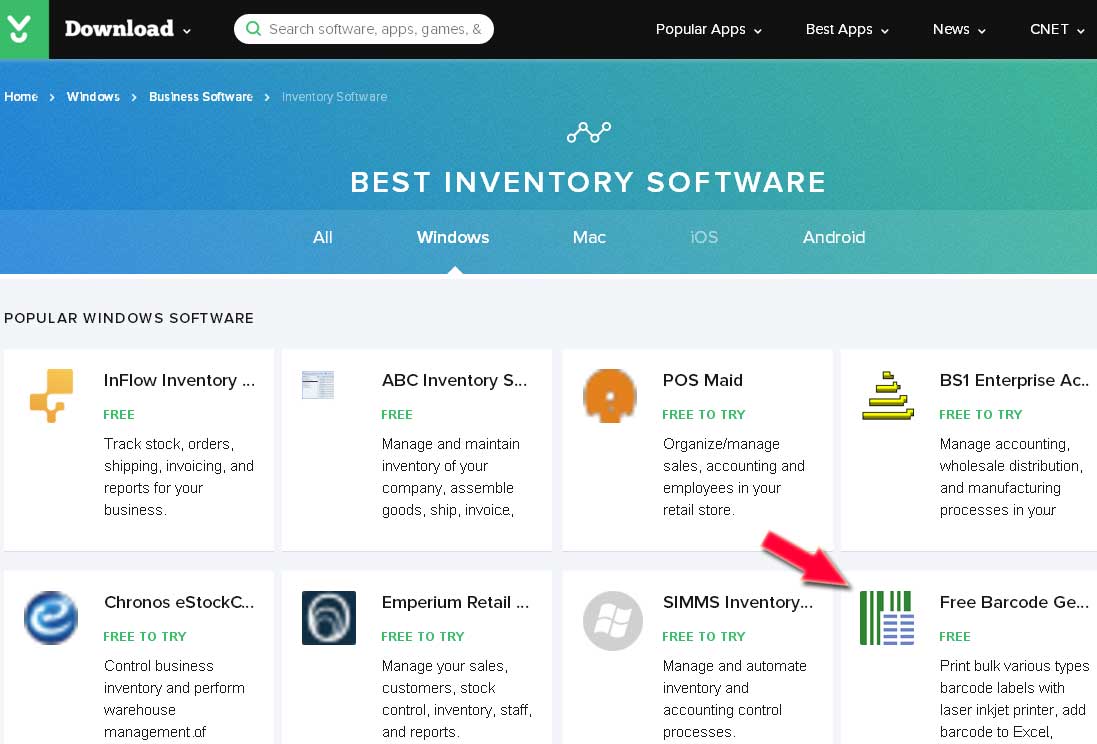 | | |
| --- | --- |
| KEY DETAILS: | >>> EasierSoft Free Barcode Generator is a wieldy and permanent free bar code manufacture and printing software. |
| | >>> It has a unique function: you can print barcode label on ordinary A4 paper with a laser or inkjet printer for office use, the effect will be better if the sticky label paper such as Avery label paper are applied, and it also support the professional barcode printer. Supports large batch of bar code labels' input and print. |
| | >>> It requires you to input the contents of the hundreds of thousands of labels at one time, instead of one by one, you can first enter the barcode data in Excel, or automatic generate a sequence of barcode numbers, then, bar code labels are printed with batches. |
| | >>> The 2nd unique function of Barcode Generator is that the complex barcode label can be manufactured with the cooperative work between Barcode Generator and MS Excel or Word. A lot of contents are contained in some bar code labels such as shipping label, including shipping address, supplier information, the company's LOGO, etc. |
| | >>> In the past, the professional bar code label design software are used to design and manufacture this kind of labels, but these software are expensive and complex. |
| | >>> Now, Barcode Generator provides you a free and simple solution - designing and manufacturing this kind of bar code labels with MS Excel or Word. Because most of the people are skillful at applying Excel or Word, so it is not necessary to learn those complex and professional bar code label design software. |
| | >>> Excel and Word are feasible, and its document format editing and printing function are very strong. The complex and exquisite label template can be manufactured with Excel or Word. With Barcode Generator, both expensive bar code printer and professional label design software are unnecessary. |
| | >>> Barcode Generator almost supports all 1D and 2D bar code formats, such as EAN-13, UPC,GS1, Code 39, Code 128, ISBN, Data Matrix and QR Code. |
| | |
| --- | --- |
| USER REVIEWS: | >>> Low cost bulk barcode labels printing software. |
| | >>> This barcode label printing software is suitable for print barcode labels in Avery label or other label paper, it is a matrix barcode labels printing program support all barcode printer and scanner, E.g to print barcode to Avery 5160 label paper, there 3*10 labels in one sheet, so in this barcode printing software, just need few steps: (1) Enter 30 barcode numbers in the data input field, or enter the barcode data in Excel and then import to this barcode program. (2) Specify the barcode type, barcode size, barcode font, etc. (3) Specify the paper as "Letter" which same as Avery label paper. (4) Set to print 3 X 10 labels. |
| | >>> This barcode software has multiple printing options, you can directly print to Avery label or other label paper, or insert the barcode images to Excel or Word then print, or export each barcode image to a file, then use them on document edition or image editing software and printing. |
| | >>> This barcode generator software can create all type of 1D or 2D barcode, including QR code and ISBN barcode for book. |
| | >>> On each barcode label, it can print one barcode and one text title, the barcode label can print as horizontal or vertical, it can print barcode labels to Avery label or common A4 paper use all type of printer, it support all types of barcode format, the printed barcode label can read by all barcode scanner / reader. If you want to print bulk of barcode labels with a serial sequence number, this barcode program can automatic create these barcode numbers. |
| | >>> It is suggest to use self-adhesive label paper to print barcode label, but it is also ok to print barcode on common office use Al, B5, etc. printing paper, the barcode labels can be pasted up to the products, or be pasted up to the printed form, invoice, purchase order etc. If your current using IT manage system do not support barcode printing, you can use this program to print some separate barcode labels, then paste up them to the printed forms, reports, so that your old system have the barcode function, this way can also reduce the amount of self-adhesive label paper and reduce the cost. |
| | >>> The printed barcode labels can be read by all type of barcode reader / scanner, the QR code can also be read by the mobile phone too, this is useful for factory or business manage. It is a low cost bulk barcode labels printing software. |
| | |
CNET Recommand Software:
<1> Chronos eStockCard Inventory Software - From Chronos Process Integration.

>>> Chronos eStockCard Inventory Software is a powerful and easy-to-use Business Inventory Software specially designed
for small and medium businesses to achieve better control in their sales, purchasing and warehouse inventory
operations.

>>> Chronos eStockCard helps many businesses to improve their inventory accuracy, reduce stock holding, track item shelf
life and FIFO usage, improve sales picking & invoicing process, reduce purchasing workload, and to alert the person-in
-charge for any inventory abnormality detected.

<2> Emperium Retail Point of Sale - From E-Novations Group.

>>> The New Emperium POS Software for Retail allows any type of retail business to manage their sales, customers, stock
inventory, staff and the entire business process.
The Emperium POS software for Retail will expand from single user to multiple users and multi-sites/locations.
Emperium Retail POS allows for easy barcode scanning, barcoding, barcode printing, promotions management, easy
stock management and smart purchasing. The Emperium Retail POS purchasing function will enable a business to
make better purchasing decisions all from one single screen and one single solution. Customers can be setup to keep
track of spending patterns through to applying credit limits and managing any credit accounts. Customers can also be
linked to promotional pricing. This is a highly popular Retail Electronic point of sale software and currently used by
retailers of all sizes from the very large to the very small. The Emperium POS software for Retail can be used in any
country. We invite you to use the Emperium POS software for Retail suites with confidence knowing that you are backed
by an international organization with a reputation for the best in breed technologies..

<3> SIMMS Inventory Software - From Kornyk Computer Solutions International.

>>> SIMMS Inventory Software provides control of data pertaining to the receipt of goods, movement of goods within or
between locations, the sale, removal or other disposition of goods and the precise valuation and status of goods
remaining in inventory at any given point in time. SIMMS Software provides your company with a major competitive
advantage versus competitors who are unable to access the same strategic information.SIMMS Software has been
designed to accommodate the needs of both large and small businesses. Gives everyone in the company total control
and access, depending on the permissions assigned to the user, wherever they are in a warehouse, in an office, behind
a cash register, working from home, working from a remote location half way around the world, in a service truck, in front
of a customer, at the loading/receiving dock, or in transit from one location to another. Version 6 may includes Phantom
Kitting, enhanced accounting, and CRM link. Version 7.1 adds Phantom Kitting to allow the user designating certain kits in
the system to not be built while the option is active. However, if a phantom kit is entered onto a transaction, all its kit
components are entered.
COPYRIGHT (C) EasierSoft Ltd. 2005-2019
cs@easiersoft.com